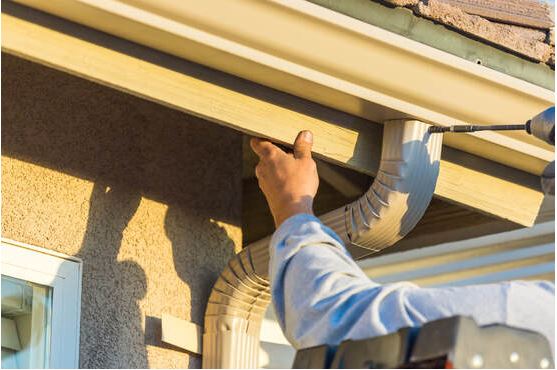 Gutter Cleaning Lancaster PA
We provide fast, experienced, affordably priced gutter installation, repair, and cleaning. Ask about our free quote and smart gutter guards!
For many years, we've been the go-to gutter service for residential and commercial clients in Lancaster, PA. Lancaster Roofing Guys offers a 100% satisfaction guarantee for all properties and all gutter installation Lancaster PA. Our knowledgeable experts and gutter repair Lancaster PA team take care of your rain gutter and downspout clearing problems quickly.
It's our goal to get the job done right and support your home or office with a beautiful exterior that's well-maintained and ready for any weather!
How We Keep Your Gutters Lookin' Good
We provide quick and free quotes for all Lancaster gutter cleaning and gutter repair Lancaster PA services. Our team answers your questions and provides a plan, whether you are looking for gutter installation, cleaning, repairs, or even new siding.
Your stopped up gutters and downspouts won't fix themselves, so why not choose a team with all of the tools and experience to fix your home or commercial building's leaky, problematic gutters? What sets Lancaster Roofing Guys apart is our customer service, affordability, and hand-by-hand cleaning process.
One of the best things you can do for your exterior is to routinely clean gutters before and after difficult weather seasons. Our clients tell us all the time that our teams are the most courteous and diligent, going above and beyond to ensure the job is complete before signing off.
We're available any time you need help with gutters, siding, or roofing projects. Just give us a call or contact us online to get your free quote.
Overview of Gutter Types We Service
Have you been watching your gutters clog up and fill with guck? While it may seem like something you'll get to eventually, it takes just a short amount of time for our professional crews to entirely improve the safety and integrity of your exteriors.
We offer a variety of materials and services for repairs and gutter installation Lancaster PA. Take a look at the number of different materials and styles to match your exterior style and drainage needs and you'll be sure to find something suited to you, from affordable vinyl gutters to extremely durable steel gutters that won't rust.
Let us improve the quality and functionality of your home with the latest weatherproof gutters and guards. We're here to help and answer your questions. Our friendly gutter service team is only a click away!
Get Gutter Cleaning Lancaster PA
There are all types of debris and clogs that can build up over time with your gutters. From leaves in the fall to summer rains that bring down branches and debris, if you don't have guards in place or even if you have older guards that need repairs, your home may suffer damage if these clogs aren't cleared.
From insects and rodents infesting your old gutters to blockages that cause damage to your roof, we've seen everything and provided a solution for our clients that fixed the issue in record time. It's one of the reasons so many clients recommend our services for gutter cleaning Lancaster PA.
In many homes and offices around the county, we've noticed rusted out, dilapidated gutters that sag and cause more leaks. These issues don't have to cost you an arm and a leg, and they can be repaired or replaced quickly to revamp your exterior entirely.
Gutter Replacement Lancaster PA Residential and Commercial Services
Sometimes when gutter repair Lancaster PA isn't an option, you may need to replace the entire drainage system. Fast and easy gutter replacements take away decaying, insect-infested downspouts and rusted out vinyl gutters–and replace them with super durable, long-lasting gutters. Protect them with guards to get even more benefits and protect your roof from unnecessary damage.
Choose Professional Gutter Repair and Gutter Cleaning Lancaster