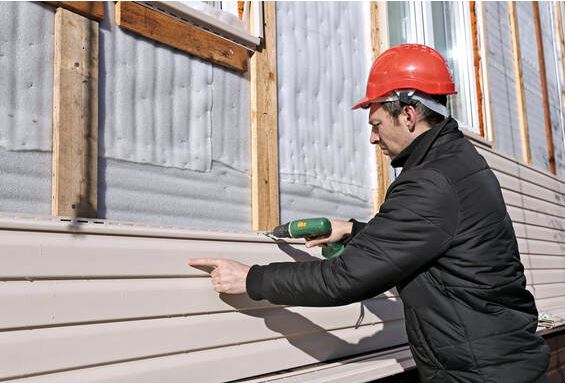 Siding Contractors Lancaster PA
We're Your #1 Siding Repair Lancaster PA Service
We care for your home and business with expert siding and roofing services. Have one of the top siding companies Lancaster PA has to choose from come and service your exterior. Ask about our free estimate and high-quality siding materials.
When it comes to the outside of your residence, you need essential, protective services that support your exteriors and prevent damage. Lancaster Roofing Guys offers excellent siding repair services, as well as siding replacement and installation.
Home exteriors inevitably need a little maintenance now and then. For siding repair Lancaster PA clients, we've replaced damaged siding every 20 to 30 years. However, not all siding is created equal, and if you've just purchased a home with cheap or damaged siding, you probably have experienced leaks, insect problems, rodent infestations, and many other issues.
Changing or repairing the siding on your home is one of the most important home improvements you can do, especially if you want to add value. With long-lasting, contemporary siding options, choose the siding contractors Lancaster PA relies on to ensure that your home becomes indestructible.
Why work with the Lancaster Roofing Guys
Siding is designed to keep out the moisture out. Once damaged, moisture can build up in your home, leading to warping, buckling, and mold. It takes time to clean and maintain the inside of your home, let alone things that you may not realize were damaged or breaking due to leaks and weather damage year after year. Our Lancaster PA siding contractors offer the most popular solutions at affordable prices to keep our clients' homes protected and well-maintained over many decades.
There are so many issues leaving your home vulnerable if you haven't repaired or replaced your siding in many years. Lancaster homes suffer a range of pests that seek refuge and sustenance within your walls. Our team not only helps to remove these pests and repair leaks, but we also install the latest siding Lancaster PA residents love for their homes.
We want your home to have the best siding available. With many options for any budgets and housing types, we can help you choose the perfect option for your home. How can we improve the safety and durability of your home?
Ours is the vinyl siding Lancaster PA relies on to withstand mildew, rot, insects, and most other damage. However, you may want to go with something more durable for those homes that need more insulation and protection.
Here are some of the siding options we offer.
With a variety of colors and options, vinyl siding is an affordable and easy to install material. It's one of our most popular options because of the color selections and economical prices.
Other homes need something even more stylish and sturdy, which brings us to brick veneer siding. Tudor style homes and English homes frequently feature this beautiful brick siding that will last hundreds of years.
Insulated vinyl siding is an exceptional option if you want to upgrade to higher home insulation and durability. It has the same variety of styles and colors as traditional vinyl siding, but it will simply last longer and offer more protection.
What Siding Lancaster PA Services Do You Need?
Our team is ready to be there at a moment's notice. Don't suffer with mold, mildew, pests, and leaks. Call the best of all siding companies Lancaster PA has to choose from and we can improve the exterior look of your home with a new Lancaster PA siding service that will help your home stay beautiful for decades and decades more.
As the siding contractors Lancaster PA residents rely on, we offer a free quote and more repair services, such as roofing repairs, leak repairs, gutter cleaning, and so much more.
Choose the Top Siding Companies Lancaster PA
Our team serves all of Lancaster and the surrounding areas. Not only do we help with siding repair and cleaning, but we also offer affordable roofing repairs and installations. Never wait to improve the look and strength of your home!
Need help with your siding right now? Don't hesitate to call our siding repair team!